Tired of filling the reservoir in your coffee machine?
Or maybe you simply don't have the time for that?
Whatever the case is, you may find a solution today. We are going to take a look at the best coffee makers with a water line. Let's learn how to find a good device that would deal with refills on its own!
Our Reviews of the Best Coffee Makers with a Water Line
Best Airpot Coffee Maker With Water Line – Best Overall
Bunn 23001.0006 CWTF15-APS
excellent for brewing lots of coffee: can brew to 120 cups per hour;
convenient hot water faucet for making tea and other hot beverages;
space-saving design — only 9'' wide;
easy to clean thanks to 100% stainless steel construction;
can accommodate 1.9 to 3L servers.
Here comes another commercial-grade brewer for this review of the coffee machines with a water line. The CWTF15-APS by Bunn is compatible with airpot servers up to 3L and can brew 120 cups of coffee within an hour thanks to its pour-over feature. However, you can easily use it as your home brewer as well.
This Bunn coffee machine features a convenient water dispenser that will help you brew a cup of tea or hot cocoa. However, the spigot will only work if the coffee machine is connected to the plumbing, and the connector should be purchased separately.
The Bunn coffee machine has straightforward controls: you need only pour the coffee into the paper filter, place it in the holder, then turn the main switch in the "On" position, and then press the start button. Once the cup is ready, the green light indication will start to blink. Plus, the coffee maker features a heated tray for cups and will keep your drink warm.
Being only 9 inches wide, this espresso machine makes a good pick for small kitchens and other limited spaces.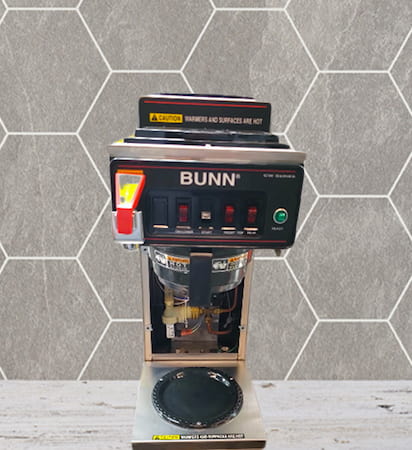 Second Best Choice
Nuova Simonelli Musica
3-liter water tank;

one-touch brew for 1 or 2 espresso shots;

professional steam wand with a convenient lever;

how water dispenser for brewing tea;

a convenient stainless steel drip tray.
If you dream about having a
professional coffee machine at home
, the Musica by Nuova Simonelli will easily take its place. This brewer won't play you a song, but using it is just like a symphony for several reasons.
First, the Musica has very convenient controls on the top. You can choose how much control you have over your brew: the machine
has two programmable buttons for pulling 1 or 2 espresso shots
, as well as a manual mode that allows you to start and end the brewing process by yourself.
The Musica is equipped with the stainless steel drip tray that keeps the clean look and is easy to remove and wash.
Another great feature of this
top
-rated coffee machine with a water line
is the heat exchange. This
allows you to brew coffee and froth the milk at the same time
, which makes the whole process faster and more convenient. The steam wand produces thick and silky milk foam, so if you wanted to try yourself in the latte art, here's your chance.
Finally, the Musica has a
spacious 3-liter tank
with a pressure gauge and water dispenser. The latter helps you boil the water for tea or morning cereal and adds even more convenience.
Best for Multiple Brewing Sizes
BUNN
works with coffee pods only;

adjustable brewing sizes with 0.25 increments;

touchscreen interface;

automatic ejection of brewed coffee pods;

internal waste storage.
If you are looking for the best all-in-one coffee maker, you might want to consider the BUNN. Even though this model can't grind the beans for you or froth the milk, it allows for multiple brewing configurations. Plus, it works with coffee pods, which means you don't really have to do anything.
Ideal for a small office, this model is ETL and NSF certified. This means the BUNN meets the sanitation and safety standards and was approved by the independent third-party testing.
Working with coffee pods, this coffee maker automatically pumps water, brews coffee, and even ejects the used pods. The BUNN allows for serving size customization with conveniently small increments. It also has a hot water dispense function for tea or instant soups.
Overall, the BUNN is a serious guy in the world of coffee makers. This model can become an impressive addition to your office lounge room. And there's a brewing size for any user!
Best High-End Option
Keurig K-3500
color touchscreen;

auto-ejects used K-cups;

5 brewing sizes;

hot water dispersion on demand;

adjustable temperature.
The first item on our list of top-notch coffee makers with a water line is a Keurig. This fancy machine would be ideal for someone who wants intuitive operation, quality design, and, of course, delicious coffee.
This model has a special High Altitude feature which makes it suitable for people living in high altitude areas (> 5,000 feet). This way, the Keurig eliminates all the possible issues you may have with the pressure inside the coffee pods.
The Keurig K3500 is a commercial-grade machine that can easily compete with some of the best coffee makers. It is well-made and allows for multiple brewing adjustments. You can control the temperature, the brew strength, and the size of your beverage. The machine will automatically eject the used pods, which means less effort on your part.
To summarize, the Keurig is certainly worth your attention. Suited for commercial use, this model can save you a lot of time when brewing coffee.
Best Single-Serve Coffee Maker With Water Line
Keurig K-2500
five different cup sizes: 4, 6, 8, 10, and 12 oz.;

strong brew button makes a more flavorful espresso;

programmable timer and sleep mode;

noiseless operation;

removable drip tray;

bright hi-res touchscreen.
This cute espresso machine with a water line combines high performance and compact design: it measures only 12" W x 13" H x 14.25" D when connected to the plumbing. The option without plumbing includes a separate 110-oz reservoir — the largest Keurig's reservoir to date — that will take some space.
So, the K-2500 is great for having five different serving sizes. You can brew standard 4, 6, or 8-0z cups, and if you need more, you can remove the drip tray and make a 10-oz or 12-oz cup of coffee.
The K-2500 also features a STRONG brew mode, which increases the contact time between the water and coffee grounds, and allows you to brew a cup with a richer flavor.
The programmable settings of the K-2500 include the delayed start and sleep mode, so you can wake up to the aroma of your freshly brewed cup. Also, this coffee maker is one of the quietest among Keurig's lineup, so if you're sensitive to loud noises, it can work for you as well.
Coffee Makers with a Water Line Explained
A coffee maker with a water line eliminates the need for constant refilling. Such coffee machines allow users to connect them to a water supply. They automatically pump water and use the needed amount to brew coffee.
Also known as plumbed coffee makers, such devices are usually quite large and can brew lots of coffee at once. They are mostly made for commercial use, although there are suitable models for home brewing as well.
Now, there are two main types of plumbed coffee machines. The first type comes with all the needed extensions and can be connected directly to your main water supply (or even your fridge water intake). The second type is home brewing machines that are compatible with plumbing kits. They allow for more freedom as you can use such machines on their own or buy the plumbing kit and connect them to the water line.
Some high-grade commercial models come with multiple carafes.  Plumbed coffee makers can work with both ground coffee and pods, depending on the model. 
Keep in mind that they tend to be quite expensive, especially the commercial stainless steel models, so you aren't going to find such models among budget-friendly coffee makers under $100. If you buy a water line kit separately, you need to make sure your coffee maker is compatible with it. Manufacturers usually mention that information on the product page, but it never hurts to double-check.
Using a Coffee Maker with a Water Line: Pros and Cons
A coffee maker with a water line might not be everyone's "cup of tea".
At the same time, these machines can offer a lot of benefits.
So, let's look at the most common pros and cons of using a plumbed coffee maker. Hopefully, this will help you decide whether you really need one or not.
Pros:
super convenient because you never have to fill the water reservoir;

fresher flavor, as you don't use the stale water that has been sitting in the tank for quite some time. This makes plumbed machines a safer option as there can be germs spreading in the reservoir (

1

);

ideal for large families of coffee lovers and frequent brewing;

can be used for commercial purposes.
Cons:
limited portability. A plumbed coffee machine has to be placed close to the water line in your house, so you might not be able to move it around or put your coffee maker in a convenient spot;

the installation process may be tricky for inexperienced users. You may have to hire a professional, which means extra expenses;

prone to leaks due to extra plumbing (especially when installed incorrectly).
As you can see, there are some potential pitfalls. But if you plumb the coffee maker properly and take good care of it, the benefits will surely outweigh the potential drawbacks. 
Most of coffee makers with a water line look rather bulky. And while some can be mounted into the wall, others require a lot of counter space. If you have a small kitchen, then a regular model with a water tank would work better for you.
How to Pick the Best Coffee Maker with a Water Line
Water line coffee machines aren't your typical home coffee makers.
Therefore, you should be careful when looking for a suitable model and pay attention to the most important factors. They can determine how convenient (or inconvenient) using your new device will be.
So, here's what you might want to consider when shopping:
Customization. Depending on how much control over your coffee you want, you can pick a more advanced machine that allows for customization. Some models offer temperature controls within the optimal brewing range, like the

SCAA certified coffee

makers, for example. Simpler (and cheaper) coffee makers typically brew on a certain number of preset modes and don't allow for many adjustments.

Materials

. Most manufacturers use plastic in their coffee machines. You can also find stainless steel models, which are more durable and pricier. As for the plastic, it's better to pick coffee machines that use

BPA free

components (at least for the sections that are in direct contact with coffee or water).

Type

. If you aren't sure what you want, the market has a lot to offer. There are filter coffee machines, automatic espresso makers, and multiple manual types of devices (

2

). If you need your coffee fast, you may want to consider a capsule model. If you want better quality beverages, an automatic pour-over machine may come in handy (

like these

). This type brews delicious coffee but doesn't require much effort from you (unlike manual models).

Functionality

. Now, this aspect will depend on your budget. Simpler (hence, cheaper) models typically have a rather basic functionality and just one brewing option. If your budget allows for it, you can get a programmable model, a

good dual coffee maker

(which would allow for multiple brewing sizes), or even a

grind brew maker

(for the freshest coffee).

Size

. Usually, water line coffee makers are quite bulky, so you need to make sure you've got enough counter space. If you feel like such a large device may be too much and you want to consider something more compact,

check out these

. There are also plenty of models in between, like

good 4-cup coffee makers

or larger 10-cup devices.

Water line type

. The market offers two basic types: direct and indirect. A direct type implies that a coffee maker has all the extensions suitable to be connected to your house water system. An indirect type means that a coffee machine can work with its water tank, but you can also connect it to the water line by using a special kit. The latter gives users more exploitation freedom. However, keep in mind that not all coffee makers are compatible with plumbing kits.

Water filter

. Poor water quality can add unwanted flavors to your coffee or make it taste flat (

3

). Additionally, it can lead to calcium build-up inside the machine and decrease its lifespan. Therefore, a water filter is a needed bonus. The good news is, some manufacturers include a filter in the kit.
Where to Use a Coffee Maker with a Water Line
These days, people get most of their caffeine intake at home. Which leaves a rather small target market for plumbed coffee makers.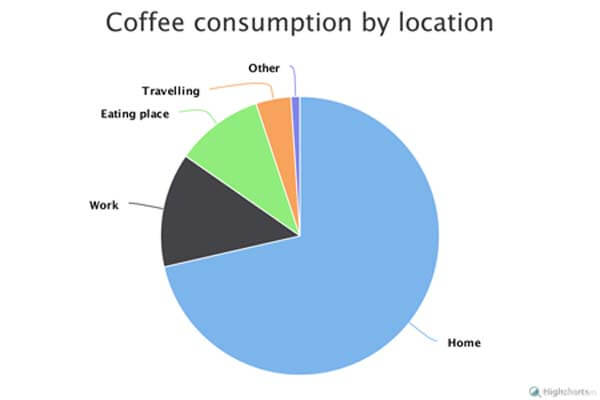 Source: http://www.city-data.com/blog/4744-coffee-consumption-united-states/
Still, there are many places (and situations) when a coffee machine with a water line may come in handy:
Offices

. Due to their large capacity, plumbed models are a great option for a busy office. Your employees don't have to waste their time constantly filling the water reservoir while still getting their caffeine fix and staying energized.

Restaurants and canteens

. Customers aren't typically keen on waiting for their coffee for too long. Therefore, an automatic water supply would save you some time (and effort) when making beverages, especially on a busy day. 

Airports

. Plumbed coffee makers are a popular option for waiting rooms and airport lounge areas. Such machines are large and durable. They brew hot coffee and don't require too much maintenance.

Home

. If you are an avid coffee drinker who doesn't want to be bothered with regular refills, you can get yourself a

coffee maker with a water line

. It doesn't necessarily have to be overly large, as there are even pod models compatible with plumbing kits.
When shopping for a new coffee maker, it's a good idea to check how easy it is to obtain the parts in case of a malfunction.
How to Install a Coffee Machine With Water Line at Home?
Hooking up your coffee machine to the water line isn't rocket science. It's very similar to plumbing in a fridge, or a dishwasher, for that matter. You can even tap into your dishwasher line to make it easier.
Here's what you need:
A plumbing kit

. It includes a reservoir, a shutoff valve, a three-way T-shaped connectorб and a ¼" water pipe. You can buy pre-assembled kits that work well with most coffee machines, or assemble your own, which can be cheaper but requires a bit more time.

An adjustable float valve

. This works similarly to the float ball you have in your toilet, but is a bit smaller and has an adjustable joint. The float valve helps refill the tank without your assistance.

A drill

. You need to drill a small hole in your water tank to let the water run directly into it.

Water filters

. If you have doubts about the quality of water, adding a couple of filters definitely won't hurt.

Compatible fittings and connectors to ensure a good seal.
After you gathered all the supplies, it's time for installation:
Turn off the valve on your water supply to avoid flooding.

Using a T-shaped connector, connect your brewer's water pipe to the dishwasher or freezer water supply.

Install the shut-off valve near the middle of the water pipe that connects your brewer to the system.

Drill a 0.5" hole in the top section of your brewer's water reservoir. Install a fitting inside to create a good seal.

Place the opposite end of your water pipe into a fitting and screw it to secure the pipe.

From the inside of the tank, install a floating ball and adjust the joint to mark your water line.

Now, you can run the whole system and see how quickly your tank refills.
How to hook up a coffee maker to a water line with a filter?
You need to buy a plumb kit (if your machine doesn't come with one). You may need some extra tubing and a line adapter. Following the instructions on the packaging, hook it to your water line (you can also use your refrigerator water supply).
How do I descale a plumbed Keurig coffee maker?
First, you need to turn off your water supply and remove the plumb piping from the machine (typically, you just need to unscrew the tubes on the back of the machine). Then you can descale your Keurig by pouring the descaling solution into the reservoir and running a cleaning cycle.
Which is the best coffee machine for an office or restaurant?
The best option would be a coffee maker with a water line. As it doesn't require you to constantly fill the water tank, it can save you some time in a fast-paced environment. Consider the Brew Express or the commercial Keurig machines for that purpose.
Conclusion
When it comes to coffee makers with a water line, they can offer a lot of benefits.
It's important to pay attention to the materials when picking one. Also, don't forget that not all of them come with a plumbing kit. Sometimes you might have to spend a bit more money. But the truth is, it will be worth it.
Want to know which model impressed me the most? It was the Bunn 23001.0006 CWTF15-APS. This coffee maker combines reasonable pricing and impressive performance, which can win almost any user over. It is a sturdy, reliable machine that may step your coffee game up.
Have you picked your favorite? Which coffee maker appeals the most to you? Share your thoughts in the comments!
References
The Public Health and Safety Organization (2012, October 30). Coffee Makers for Home Use. Retrieved from

https://www.nsf.org/newsroom/coffee-makers-for-home-use

Christina Herbst (n.d.). Your Ultimate Guide to Different Types of Coffee. Retrieved from

https://www.tasteofhome.com/article/types-of-coffee/

Debra Kelly (2020, February 18). You've been using your coffee maker all wrong. Retrieved from

https://www.mashed.com/119098/youve-using-coffee-maker-wrong/
My name is Yurii Brown. I am a passionate coffee geek and, concurrently, a certified coffee specialist. 
I've been learning about coffee for a long time, testing various devices and practicing in home coffee brewing. I like to share my experience and insights with fellow coffee lovers so that my readers could enjoy the real taste of quality-brewed beverages.