Italians surely know a lot about good coffee.
And they also know how to make top-notch espresso machines.
Many of them make more and more people become fascinated with the art of espresso brewing at home. If you are one of those people, check this guide to the best Italian espresso machines and learn how to pick something that would be perfect for you.
Are you ready? Let's get started!
What Makes Italian Espresso Machines Special
As you probably know, espresso is a shot of strong, rich in flavor coffee (1). However, it isn't just any strong coffee beverage. The secret behind a good espresso is in the way it's brewed, using a high-pressure pump that forces the hot water through the grounds and allows for swift coffee extraction.
That's what Italian espresso machines are famous for. They typically use around 13-15 bars of pressure, which allow baristas to extract a perfect shot of espresso in approximately 25 seconds. Additionally, Italian-made espresso machines often use heavy-duty, commercial-grade materials and parts. They are reliable in use and tend to work consistently for a long time. 
Don't worry though: they aren't too complicated. Most espresso makers come with a simple control panel, a portafilter, a brewing group (where you should insert the portafilter), a drip tray, and sometimes a steam wand for the milk (which might take some time to get the hang of).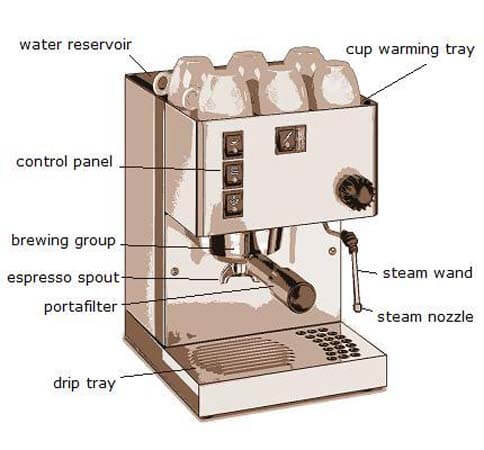 Source: https://siuchiman.wordpress.com/2012/09/22/i-always-wanted/
Types of Italian Espresso Machines
Let's admit it: espresso machines aren't that popular for homemade coffee (yet). They can be challenging to use and finicky to clean, especially if you are a beginner. That's why many people choose simpler drip coffee makers or pod brewers.
Source: https://www.grandviewresearch.com/industry-analysis/coffee-machine-market
However, those who appreciate the taste of a real espresso are ready to go through the learning curve and master (or defeat) their espresso machine. Luckily, there are plenty to choose from, so there's a suitable model for any home barista. 
The most common types of espresso makers are:
Manual

. Also known as lever espresso makers, manual models are more compact and aren't that difficult to use. They have a special lever, which you should pull down to force the water through the grounds and extract your espresso. Manual coffee makers are great for those who want to control every step of the process, including the flow speed and the extraction time.

Super-automatic

. Super-automatic espresso makers do all the work involved in brewing espressos. They grind the beans, fill the portafilter, tamp the grounds, and brew coffee. That's why they are often called bean-to-cup machines, as such espresso makers go through all the steps to transform coffee beans into a flavorful shot of espresso.

Semi-automatic.

These might be something in the middle between manual machines and super-automatic models. With a semi-automatic espresso maker, you will need to grind the beans and tamp the grounds yourself, while the machine will take care of the extraction process. 
A quick note: there are also single-serve capsule coffee machines that many manufacturers call "espresso makers". However, that's not true. I mean, there's nothing wrong with capsule coffee makers as those can brew delicious coffee. But that coffee isn't espresso.
For an espresso, the water has to be pushed through the grounds under pressure. In pod coffee makers, the water simply runs through the grounds that are placed inside the capsule. The process is different, and so is the result.
However, as I've said before, there's nothing bad about using a capsule coffee maker. In fact, you are a fan of the most famous ones – Nespresso machines – you can check out more of them here.
Source: https://ao.com/help-and-advice/guides-and-advice/buying-guides/coffee-machines
The Advantages of Italian Coffee Makers
So, why do people love made-in-Italy coffee machines so much?
Aside from impeccable quality, these coffee makers have several advantages:
They can make different beverages

. Most Italian coffee makers feature settings not only for the standard espresso, doppio, or ristretto, but may also have a steam wand for adding milk to your beverages.

They deliver a strong and bold flavor

. Italian coffee machines have the precise pump that creates enough pressure to brew flavorful espresso with a characteristic thick crema foam.

They are designed to make your experience with coffee excellent. Italian coffee machines pack a lot of features, such as programmable start, brew type selector, and a preset number of cups.
How to Pick the Best Italian Espresso Machine
Here's the deal:
There are plenty of good espresso machines on the market.
But how do you choose just one? How to find what would work for you?
Well, to do that, you can answer a few questions that may help you narrow down the list of Italian espresso machines and find the most suitable option: 
Semi-automatic or super-automatic?

You already know that semi-automatic espresso machines require some effort on your part, while super-automatic models do all the work. However, with a semi-automatic brewer, you will be able to control some steps of the process (like the tamping, the grind coarseness, the extraction time, etc.). With a super-automatic coffee maker, the machine will brew your beverage according to its settings, and you won't be able to interfere. This option is easier, doesn't require a learning curve, and could work for an espresso lover with zero brewing experience. Semi-automatic models require a learning curve and would be ideal for an aspiring home barista who is not afraid of experiments.

How much are you willing to spend?

Espresso makers can vary from as low as $30 and up to thousands of dollars (

2

). However, keep in mind that most

espresso machines under $200

are not likely to be Italian-made. Plus, they won't allow for too much versatility in use. Therefore, if you are a more demanding user, you will have to splurge a little (or a lot, depending on your preferences). Keep in mind that high-grade Italian coffee makers could cost around $1,000 and more. There are more affordable (and just as good in terms of performance) options, of course, but they might use slightly cheaper components. Also, keep in mind that super-automatic machines are typically more expensive than semi-automatic models. As for manual espresso makers, they tend to be the cheapest ones and would be ideal for shoppers on a budget.

What beverages are you willing to make?

Espresso makers are designed to pull perfect shots, but along with that, they can create numerous espresso-based drinks. Even the cheapest espresso brewer can whip up a double espresso shot, a Lungo or Americano. And suppose you purchase a device with a milk frother. In that case, you can easily become an at-home barista and make cappuccino, latte, mocha, or Irish coffee with regular milk or plant-based alternatives.

Are you ready to splurge on a grinder?

If you decide to get a semi-automatic espresso machine, you are going to need a good grinder to go with it. Now, this accessory is extremely important and can cost you quite an impressive sum of money (

3

). Conical burr grinders are typically the best for espressos as they can guarantee a perfectly even grind and allow for coarseness adjustments. Blade grinders are much cheaper and would work if you are only starting your coffee brewing journey. However, keep in mind that it might be hard to achieve an even grind with a blade model. Plus, the blades tend to heat up in the process and can affect the coffee flavor by overheating the beans. If you do choose a blade grinder, make sure you make pauses during the process to let the blades cool down.

Do you need a single or a double boiler?

Many

Italian espresso machines

come with a double boiler system: one for brewing and one for steaming milk. Such construction allows users to make more beverages simultaneously and to steam the milk faster. This option would be ideal for larger families of coffee lovers. However, if you are a solo user (or there are two of you), a single boiler would be enough. You just might have to wait for a bit when brewing beverages for two. 

What kind of warranty does the manufacturer offer?

A longer warranty will protect you as a buyer, of course. Additionally, an extended warranty period can mean that the machine is quality-made, with durable materials the manufacturer is sure of.

What about the water reservoir?

You see, some espresso makers can be connected to the water supply in your home, so there will be no need for water refills, which many users prefer. However, a quick word of warning: tap water is not ideal for espressos. If you are concerned with the quality of your beverages, it's better to pick an espresso machine with a water tank (and use filtered water for your coffee).

What materials would be more suited for you?

Most

high-quality Italian espresso machines

use either brass or stainless steel. Brass resists both corrosion and the deep abrasions that often impact the rest of the kitchen. It's also safe from heat damage and doesn't require much effort to be cleaned. As for stainless steel, it has a poreless structure and does not absorb moisture. It's super easy to clean and can resist bacteria and harmful residues.

What do other users say?

This might seem obvious, but many shoppers forget to read other users' reviews. So, before purchasing your new espresso machine, make sure you check the online reviews. Other people's experiences with the brewer you are considering can help you understand how it will perform and hold up with time. The reviews can also warn you about any potential issues you may encounter. And as we know, only an informed shopper can make the best choice possible.

Size

. Choose the size of your espresso machine according to the size of your kitchen counter. In terms of quality brew, it's irrelevant how big or how small your brewer is. However, larger coffee makers might have a more functions and more extensive selection of beverages.

Programmable features

. Investing in a coffee brewer with programmable features is a sure way to make your life easier. Just set the desired brewing time, and you'll always wake up to the smell of fresh coffee. Also, some models can even save your preferred settings, so you won't have to re-select them each time.
Tips for Flavorful Italian Espresso
Finally, the best thing:
To make the best and flavorful cup of espresso, you don't need to be a certified barista!
Just follow these tips below, and you will be able to brew a tasty cup every day:
Pick freshly roasted coffee beans

and grind them immediately before brewing. This will preserve the maximum amount of flavor.

Use soft or filtered water

to minimize any unpleasant aftertaste in your cup.

Pre-warm your espresso cup and portafilter before use

to let the coffee beans bloom and reveal their aroma.

Tamp coffee in the portafilter

. Tamping creates a flat surface that is more suitable for making a balanced cup with complex flavor.
F.A.Q.
How to use an Italian espresso machine?
It might take you some time to get used to your new machine and find the suitable configuration for a perfect shot of espresso, but here's a simple step-by-step guide you can follow:
Turn your espresso machine on.

Grind the beans finely and measure the needed amount using a digital scale.

Place the ground coffee into the portafilter. 

Tamp the grounds. You don't have to use too much force, but make sure that the grounds are packed tightly.

Brush off the grounds that may be left outside of the portafilter. 

Attach the portafilter to the group head, press the brewing button. It's important to pay attention to the extraction time and the flow rate. Typically, 25-40 seconds are enough to get an evenly extracted shot of espresso. However, the numbers may vary depending on the machine model and the size of the dose you are trying to extract. Don't be afraid to experiment with different settings, grind sizes, coffee amount, and other variations to find what works for you.
What is the difference between the Italian-made and other espresso machines?
Typically, Italian manufacturers use premium quality components for their machines, which results in prolonged durability. Additionally, many people believe that because espresso originated from Italy, Italian machines make beverages that have that exemplary, classic taste.
What are the best coffee beans for espresso?
It depends on your preference. Many pre-made espresso blends have 70% of Arabica beans to 30% of Robusta beans ratio for a balanced flavor. However, you can experiment with different bean types or pre-made blends to find out the perfect one for you.
What is the best pressure for Italian espresso?
Most baristas agree that the best pressure to make a cup of espresso with a thick crema foam is 8-9 bars, and most modern coffee machines can deliver this pressure. Others argue that you need to have at least 15 bars for brewing a flavorful coffee.
If you plan to use a Moka pot or Aeropress, note that they can produce 2 bars of pressure, which means that the final result will be called 'strong coffee' rather than espresso.
Do Italian coffee machines last longer than others?
Italian coffee machines have years of technology and innovations, but at the end of the day, their performance and longevity depend on how actively you use and how well you maintain it. Italian coffee machines can serve you up to a decade or two and will consistently deliver a perfect cup every morning.
References:
Karim Nice (May 17, 2001). How Espresso Machines Work. Retrieved from

https://home.howstuffworks.com/espresso-machine1.htm

Pru Engel (April 07, 2020). Should you buy a home espresso machine? Retrieved from

https://www.choice.com.au/home-and-living/kitchen/coffee-machines/articles/is-it-worth-owning-your-own-espresso-coffee-machine

Brian Lam (May 15, 2020). Making Espresso at Home Is Kind of a Nightmare—But If You Insist, Here's How to Do It Well. Retrieved from

https://www.nytimes.com/wirecutter/blog/making-espresso-at-home/

​​
My name is Yurii Brown. I am a passionate coffee geek and, concurrently, a certified coffee specialist. 
I've been learning about coffee for a long time, testing various devices and practicing in home coffee brewing. I like to share my experience and insights with fellow coffee lovers so that my readers could enjoy the real taste of quality-brewed beverages.