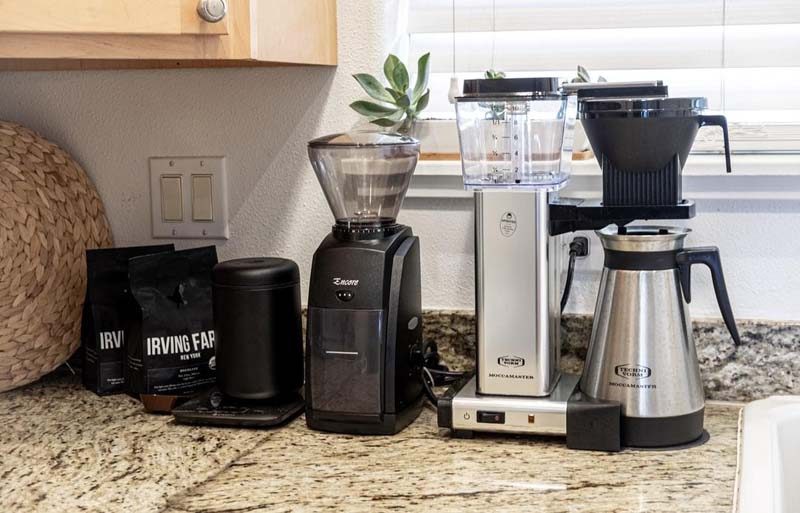 Sometimes, it's hard to choose a suitable coffee machine because of the exciting marketing claims.
That's why we need quality certifications like the SCAA seal of approval.
Today, we are going to look at 5 best SCAA certified coffee makers for home use. You will also get some tips on how to pick a suitable model to suit your needs and preferences.
Our Reviews of the Best SCAA Certified Coffee Makers
Best Overall — Editor's Choice
Technivorm Moccamaster (59616 KGB)
100-minute auto shut-off;

hotplate temperature between 175 and 185 degrees Fahrenheit;

glass carafe;

brews coffee in under 6 minutes;

40-oz see-through water reservoir.
Our list starts with the Moccamaster by Technivorm. This model belongs to the best BPS, BPF, and BPA free coffee makers and proudly holds the SCAA seal of approval. The Technivorm brews outstanding coffee that can impress even experienced coffee lovers.
Not only does this model maintain an optimal brewing temperature but also a proper hotplate temperature as well. Keeping it between 175 and 184 degrees, the Technivorm prevents your coffee from developing that burnt flavor.
The Moccamaster is handmade in the Netherlands. It uses a special water outlet for even coffee saturation that results in excellent beverage quality. Such a design is similar to some of the best automatic pour-over coffee makers, which allows the Moccamaster to maintain coffee quality with every cup. The controls are pretty straightforward and would suit even beginners. The water tank capacity is large enough for brewing up to 10 cups.
Overall, the Technivorm lives up to expectations. It brews consistently good coffee with a touch of a button. It's also one of the most highly-rated BPA free coffee makers on the market.
Best Single-Cup SCAA Certified Coffee Maker
Braun MultiServe (KF9150BK)
dual design;

7 brewing sizes available;

10-cup glass carafe;

fast operation (brews a full pot in under 8 minutes);

3 brewing strength options.
The next model that deserves to be among the best SCAA certified coffee makers is the MultiServe by Braun. This is a dual coffee maker that has multiple single-serve options and can be used for one-cup brewing.
The MultiServe features the ExactBrew system. It allows the machine to calculate the optimal temperature, water flow, and speed for each brewing size that you choose.
This model is quite versatile in
terms of brewing sizes. There are 3 cup sizes, 2 travel mug options, and 2 carafe settings (half and full). Such a variety of options makes this model suitable for a wide range of users, including those seeking a good 5-cup coffee maker (in this case, you can just brew half of the carafe). The MultiServe also allows for 3 brew strength levels. This means you can customize your beverage to find that perfect configuration of size and strength.
To summarize, this coffee maker managed to pleasantly surprise me. It gives users the freedom to choose different beverage sizes, even when it's only one cup.
Best SCAA Certified Thermal Carafe Coffee Maker
Breville Precision Brewer (BDC450)
stainless steel and plastic construction;

6 pre-set brewing options;

programmable auto-start;

includes 2 filter baskets;

Thermocoil heating system.
If you appreciate customization and want your coffee to remain fresh for hours, you might like our next contestant for the right to be called the best SCAA certified coffee maker.  
What makes this machine special is the My Brew function. It allows users to adjust such settings as brew temperature, bloom time, and flow rate. The Breville stores this information so that you can make your perfect beverage effortlessly.
This model includes 6 automatic brewing presets. It even makes cold brew coffee, which so many users love. There are 2 filter baskets, cone and flat bottom for increased customization. As for the carafe, it is insulated and can keep your coffee warm without affecting its flavor.
Overall, this is one of the best thermal carafe coffee makers on the market. The Breville allows for flexibility in use that both beginners and experienced coffee lovers would appreciate.
Best SCAA Certified 8-9 Cup Coffee Maker
OXO Brew
intuitive LED interface for easier controls;

beverage size adjustments (from 2 to 9 cups);

optimal brewing temperature for proper coffee extraction;

Rainmaker showerhead for even saturation of the grounds;

stainless-steel carafe.
The next item among the best SCAA certified coffee makes is this 9-cup model by OXO (which can be easily considered an 8-cup model as the cup sizes run a bit small). The OXO is super easy to use but shows reliable performance and consistency with every cup.
This model allows for size adjustments, so you can brew as much as you want on any given day. And here's the best part: thanks to the double-walled insulated steel carafe, your coffee will remain warm and fresh longer. You might also appreciate the intuitive controls this coffee machine has. It's suitable even for those users who don't have experience with coffee makers.
Finally, let's not forget that since this is an SCAA certified brewer, it maintains the optimal temperature to achieve the best-tasting coffee. The OXO also uses a special showerhead for even saturation (to brew more flavorful beverages).
Also read: Best 4-Cup Coffee Makers
Best Value SCAA Certified Coffee Maker
Cuisinart Coffee Brewer (CPO-850)
8-cup carafe capacity;

64-oz water tank;

3 brewing strength options;

24-hour programmable timer;

charcoal water filter.
The last item I want to mention is one of the best coffee makers that would be ideal for value seekers. The Cuisinart combines excellent performance, sturdy construction, and affordable price, all in one unit.
What's unusual about this model is the Extra Hot feature. You can rarely find it in home coffee makers. The difference between Hot and Extra Hot isn't that great, but the ability to choose between the two is a handy bonus.
This automatic coffee maker comes with all the essentials for delicious coffee and convenient use. It allows for temperature and brew strength adjustments, as well as timed brewing. There's also a self-cleaning mode. Another pleasant surprise is the charcoal water filter that will ensure the crisp taste of your coffee.
Overall, the Cuisinart can become a great addition to your kitchen. This coffee maker excels at brewing delicious beverages. Plus, it's a good deal for the money, which so many users would appreciate.
Does SCAA Certification Matter?
As coffee consumption numbers grow every year, customers become more and more demanding.
Source: https://www.statista.com/statistics/804271/domestic-coffee-consumption-in-the-us/
No one wants to settle for bland, watery coffee, even if it's made at home and not at a fancy coffee house.
Luckily, there are organizations that test coffee makers to see which ones can deliver the best performance. And the SCAA is one of them.
The Specialty Coffee Association of America evaluates coffee brewers and sets the highest standards of specialty coffee (1). The Association also educates coffee lovers and teaches consumers how to achieve the maximum flavor when brewing coffee.
So, what does the SCAA certification mean? 
If you buy an SCAA approved coffee maker, it means your device was subjected to multiple tests and showed consistently good results. Such a seal of approval proves that a coffee machine can brew exceptionally good coffee that matches the highest standards in terms of flavor, beverage clarity, and temperature. 
Keep in mind that this seal of approval isn't easy to obtain. A coffee machine has to implement a special design and construction to reach the SCAA standards. That's why it might be hard to find SCAA-certified models among the best coffee makers under $100. Typically, more expensive devices can withstand the SCAA's tests.
After merging with the Specialty Coffee Association of Europe, the SCAA changed the name to SCA, which stands for Specialty Coffee Association. The organization went global and now has more than 10,000 expert members.
What Makes a Good SCAA Certified Coffee Maker
To select only the best SCAA approved coffee makers, the organization sets a specific list of requirements and criteria when reviewing the coffee machines.
These requirements include:
Golden cup ratio

. The SCAA conducts tests using the Golden Cup ratio to determine if the coffee maker can accommodate brewing large volumes of coffee. The Golden Cup is equal to 55 g of ground beans per 1 liter of water and is adjusted depending on the size of the filter basket. A brewer must then handle a single full brewing cycle without overflowing. Also, the Golden Cup is used to determine the strength of the brew (measured in Total Dissolved Solids, or TDS), which should be equal to 11.5-13.5 grams per liter.

Optimal brewing temperature

. For optimal extraction and flavor, a good SCAA certified coffee maker should maintain the temperature between 195 and 205 degrees Fahrenheit (

2

). The SCAA monitors coffee machines to make sure that the minimal brewing temperature is maintained throughout the process and does not exceed 205 degrees.

Brewing time

. The SCAA believes that there's the right amount of time during which the coffee grounds and the water should remain in contact. Generally, the brewing time should be between 4 and 8 minutes, which the organization checks in every coffee maker.

Beverage clarity

. Excessive sediment can affect the coffee flavor and decrease its quality. According to the SCAA, every 100 ml of coffee should contain less than 75 milligrams of sediment.

Carafe temperature

. For brewers with a carafe pot, the temperature inside it should fall within 176-185 °F (80-85° C) for the first 30 minutes after the brewing is finished. The heating element should be turned off, so the brew temperature should remain the same.

Performance uniformity

. The SCAA tests every coffee maker multiple times to see whether it can show consistently good performance (

3

). This means every certified model brews coffee of the same quality every time it's being used.

Extraction uniformity

. SCAA does have the requirements for a perfect brew strength: for a good tasting cup, the coffee machine should be able to extract the flavors from 18-22% of the coffee weight in the basket. For example, if your coffee basket contains 50g of grounds, then a brewer should have the capacity to extract the flavor and oils from at least 9-11g.

Pre-infusion feature

. SCAA doesn't include the pre-infusion of coffee beans as a mandatory practice, but some of the best coffee makers offer this feature. Pre-infusion is wetting the ground coffee beans in 93° F water that helps to release the carbon dioxide and lets the flavors 'bloom', which results in a more complex brew.

Comprehensive manual

. In order to be approved, a coffee maker has to offer a clear, comprehensive manual that provides detailed instructions and even suggestions on how to make the most out of it.
How to Pick the Best SCAA Certified Coffee Maker
Here's the deal:
We are lucky to have so many cool SCAA approved coffee machines to choose from. However, filtering through them is a handy skill as it can help you find what you need exactly.
So, if you want to pick a model that would satisfy your requirements, consider the following aspects when shopping:​
Functionality

. Do you want a no-frills coffee machine? Or do you need something that would allow for customization? Many SCAA certified home brewers offer coffee strength controls, pre-programmed brewing, size adjustments, and so on. Keep in mind that simpler models would be more affordable.

Brewing size. Now, this aspect will depend on how much coffee you consume. For an occasional cup or two, you may want to invest in a

single-serve coffee maker

. However, if you need your caffeine fix often, you can consider getting a larger model. 8, 10, 12, or even 14-cup coffee machines are available on the market. Keep in mind that some of the larger-capacity models work with plumbing kits. Such top-rated coffee makers with a water line can be connected to a water supply directly and do not require refills. This option is ideal for someone who drinks a lot of coffee (and does that often).
Budget

. Clearly, more expensive brands (like

SCAA certified BUNN coffee makers

) come with many bells and whistles. However, you can get a decent coffee machine even under $100. Just don't expect it to offer too many customization features. Typically, home brewers between $100 and $200 can offer the best value.

Thermal or glass carafe. The carafe plays an important part in keeping your coffee warm, which is essential if you love to sip on a cup during the day. You can choose between the thermal, or double-walled carafe and the glass carafe. Glass carafes are cheaper, but they can keep the coffee warm for the 10 minutes tops, and if your coffee maker doesn't have a heating tray, it will cool down quickly. SCAA requires the carafe to keep the stable temperature of the brew for at least 30 minutes, and most of them can keep the coffee hot for 2-4 hours. However, the thermal carafe can be a better choice, as it has thicker walls and is generally immune to cracks and breaks.
Grinder

. This detail is completely optional but can help you enjoy fresher beverages. You can buy a grinder separately or invest in a good

grind and brew coffee maker

. 

Footprint

. This aspect depends on how much kitchen space you have. Make sure that you check the coffee machine dimensions before making a purchase. Also, remember that some of them emit steam when brewing. Such models shouldn't be placed under wooden cabinets as the steam can warp the wood (

4

). If your kitchen space is limited, you can check some of the best Keurig coffee makers, as those are usually rather compact and don't require much counter space.
It may be difficult to find SCAA certified 5-cup coffee makers as the organization doesn't usually test coffee machines of such a small capacity.
F.A.Q.
What is an SCAA certified coffee maker?
This certification implies that a coffee maker was thoroughly tested by the Specialty Coffee Association and meets the highest brewing standards (for instance, the optimal temperature, extraction time, beverage clarity, etc.).
What is essential in a coffee maker?
Check the coffee maker for features that you're interested in, such as proper brewing time, size, or brew settings. Also, check if it has a glass or thermal carafe, and how long it can keep your coffee warm (you can check reviews or the Q&A section to find that out). Having a coffee machine with programmable settings, so it will be safe to use and won't inflate your electric bills.
What are SCAA requirements for water quality?
SCAA has pretty strict water quality standards. If you plan to brew your coffee using tap water, make sure it has a neutral pH level (7.0), doesn't contain chlorine, and has 40-70 ppm alkalinity and 50-175 ppm CaCO3 mixtures. You can filter your water for coffee or use bottled one, and be sure to check your tap water from time to time to see if it meets the SCAA guidelines.
What is recommended brewing temperature, according to SCAA?
Most coffee makers are set for brewing the cup at 195° F — 205° F temperature range. However, the SCAA recommends brewing coffee at a consistent 197.6° F and not exceed the 204° F point.
Conclusion
The SCAA seal of approval means a lot. Not every coffee machine can handle all the tests conducted by the Association. 
The contestants have to maintain an optimal brewing temperature and show consistently good performance.
Luckily, we have 5 options to pick from. And my personal champion is the Technivorm Moccamaster. This model makes coffee that tastes like it was brewed by a professional barista. It is elegant, simple, and reliable. Such a device can change your coffee rituals for the better. 
Which coffee makers impressed you the most? Share your thoughts in the comments below!
References:
Specialty Coffee Association (n.d.). Retrieved from

https://sca.coffee/

National Coffee Association of USA (n.d.). How to Brew Coffee. Retrieved from

https://www.ncausa.org/About-Coffee/How-to-Brew-Coffee

Specialty Coffee Association (2014, January). SCAA's Minimum Certification Requirements for Coffee Brewers. Retrieved from

https://www.scaa.org/PDF/SCAA_Certification_Req_Home_Brewer.pdf

Meghan Splawn (2019, April 30). Here's How to Stop Instant Pot Steam from Damaging Your Kitchen Cabinets. Retrieved from

https://www.thekitchn.com/instant-pot-steam-cabinets-diverter-265872

​
My name is Yurii Brown. I am a passionate coffee geek and, concurrently, a certified coffee specialist. 
I've been learning about coffee for a long time, testing various devices and practicing in home coffee brewing. I like to share my experience and insights with fellow coffee lovers so that my readers could enjoy the real taste of quality-brewed beverages.