I am sure that you have heard of Keurig on every corner.
The Keurig brand is famous for their capsule coffee makers. The manufacturer promises coffeehouse quality beverages in the comfort of your home, but do the machines live up to the expectations?
That's what we are about to find out today by the example of the Keurig K575. Is this the platinum card of Keurig? Or is it just another K-Cup coffee maker, the same as hundreds of others? Let's find out.
Design and Appearance
The Keurig K575 is a sleek coffee maker that has a see-through water reservoir, a large display, and a minimalistic exterior with a lot of clean lines.
Performance and Functionality
This model offers 8 different size options for your beverages. It works with a variety of capsules, which makes it quite versatile in use. The brewing temperature and the beverage strength are adjustable.
Coffee Taste
The K575 makes rich, delicious beverages that have a strong, deep flavor.
Cleaning and Maintenance
This coffee brewer allows for effortless cleaning. You need to wipe it after each use, clean the needle regularly, and descale the machine occasionally.
The Good and the Bad Side by Side
Pro: extremely easy to use without sacrificing the flavor.
Con: plastic construction (not impressively durable).
Whom Is This Coffee Make Ideal For?
The K575 by Keurig is a perfect coffee machine for those who appreciate versatility and want a brewer that is super easy to use.
Curious to learn more? Keep reading to find out more details about the Keurig K575 coffee maker!
A Quick Preview
The K575 is considered to be a new generation of K-Cup machines by Keurig. Why, you may be wondering? Because this model comes with a set of new features, improvements, and functions. We will take a closer look at them, but first, let's check out the main features of the K575:
multiple brew sizes (from 4 to 30 ounces);

water reservoir capacity: 80 ounces;

large touchscreen display;

comes with 2 water filters;

temperature and strength settings;

hot water function;

energy saving mode;

removable drip tray;

programmable brew function (for carafe mode only);

maintenance alerts;

digital clock;

dimensions: 13.2 (17.5 when open) x 13.63 x 10.5 inches.
Design and Appearance
I want to start my in-depth Keurig K575 review with its design, both interior and exterior. These two factors can be a real game changer for some users, and I understand why. Firstly, you definitely want a highly functional machine, which is nicely built. Secondly, it is always nice to get something that would fit into your kitchen interior perfectly.
Now, when it comes to the appearance of the K575, there's nothing too special (or disappointing) about it. The smooth platinum finish makes this machine look more expensive than it really is. It has a minimalistic design, with clean lines and smooth edges. The display is large and clear but doesn't look overwhelming with the rest of the ensemble. I personally really love the platinum (somewhat gray) exterior of this machine. It looks sleek and can fit into pretty much any kitchen style.
Here's the thing, though:
Even though the K575 looks quite neutral in terms of its style, it might not be suited for certain kitchens. That's because of its size. This is definitely not a compact shelf coffee maker. If you were planning on keeping it in a cupboard, this might be not an option. You see, when open, the Keurig K575 measures 17.5 inches in height. Moreover, it's quite wide. So, it will need enough counter space in your home.
But don't worry:
Even if this isn't the most compact model, it does not look too bulky. The K575 is sleek and simplistic, so you don't have to worry about an awkward machine occupying your kitchen space.
Now, moving on to the interior design. This model works the same way as the rest of its brothers. It supports coffee pods (capsules). The needles pierce through the capsule top, allowing the hot water to run through the coffee grounds, brewing a nice beverage for you.  
The water reservoir is removable for an easy refilling. It works with water filters (two of which come with the purchase), which means your coffee will have a purer, cleaner taste. Another cool feature of the K575 is its removable drip tray. This option allows users to brew coffee into their travel mugs or tall glasses (if you are making a fancy coffee-based beverage, for example).
The touchscreen display adds a cool modern look to this coffee maker. Besides, it can serve as a digital clock when you are not using the machine.
Now, most of the parts (both external and internal) of this machine are made of plastic. This might disappoint some users, and I understand why. However, my experience with this machine was not disappointing. The plastic parts felt rather sturdy and managed to handle regular use. I made coffee multiple times a day every day and did not have any durability issues with this machine.
The only potential drawback you might experience is the slight plastic flavor of your beverages. However, this happens rarely to some users. I believe this is a manufacturing flaw and recommend contacting the company if you have noticed this. Thankfully, the support that the company provides for the clients is superb.
Control Panel
Another great thing about K575 is its convenient touchscreen control panel. It's bright, responsive, and intuitive so that you will make your cup of Joe in no time. The panel contains the following functions:
Brew size adjustment.

This allows you to switch between the different cup, K-mug, and carafe sizes.

Hot water.

Boils water for brewing tea, hot cocoa, or adding it to your morning oatmeal or noodles.

Brew strength.

Allows you to switch between Mild or Bold brews, depending on the desired flavor.

Temperature settings.

Five modes for adjusting the temperature according to your preferences and the pod type.

Clock.

Switches between digital and analog clock styles, as well as sets up the clock for programmable settings.

Auto Start and Auto brew mode.

Lets you program the start of the brewer to a set time so that you can wake up to the smell of your morning cup of coffee.

Energy-saving mode. After brewing your cup, the machine automatically goes into standby mode, so you don't have to worry about accidentally forgetting to turn it off.
Performance and Functionality
The next aspect I want to discuss in my Keurig K575 review is how this machine performs and what it has to offer to its users. Let me tell you one thing right away:
With the K575, you get a wide range of features and multiple customization options.
First of all, there are 8 beverage size options. You can brew a single cup at a time (4, 6, 8, 10, or 12 ounces) or a full carafe (22, 26, or 30 ounces). This means this machine is suitable for different coffee lovers. You can use it to brew yourself a fresh cup of coffee multiple times a day or to make a full carafe for the whole family (or to treat your friends after dinner, for example).
Because the K575 can make and dispense one cup at a time, you will always get fresh beverages. Additionally, you can adjust the brewing size every time depending on your mood. This means no wasted coffee or making a large batch and then drinking stale beverages.
This model works with K-Cup, K-Mug, and K-Carafe capsules. The difference between them is in the coffee quantity, which will influence the strength and the quality of your brewed beverage. Now, you can also adjust the strength by using the control settings. Don't expect miracles from this feature, though. It will make your beverage a bit stronger, but not too much. You will not get a super bold, espresso-like beverage – just a more intense flavor and taste.
There's also a temperature control feature. This is a huge bonus for all coffee lovers. You probably know that the temperature of the water can influence the flavor of your beverages. Additionally, you do not need boiling water to brew coffee. So, the temperature control feature will allow you to find the appropriate setting for your perfect cup of coffee.
And it gets better:
This feature can help you prevent the over-extraction of the coffee grounds, which often results in that unpleasant drying flavor.
The Keurig K575 is a great option for those who want their coffee fast. Why? Because it operates swiftly. The water heats up in less than 3 minutes. And it takes less than a minute to brew a cup of coffee. If you need a full carafe, you will have to wait for around 2-3 minutes. Overall, this is a rather fast machine, which may be a perfect option for users who need their caffeine fix here and now on any given day.
That's not it:
If you want to wake up to freshly brewed coffee, you can use the programmable carafe function. Just set the timer, put a pod in, place a carafe under the dispenser, and go to bed. The machine will start an automatic brewing cycle whenever you need it. So, if you cannot wake up without your morning cuppa, this feature would come in handy.
Also read: Best Keurig Coffee Makers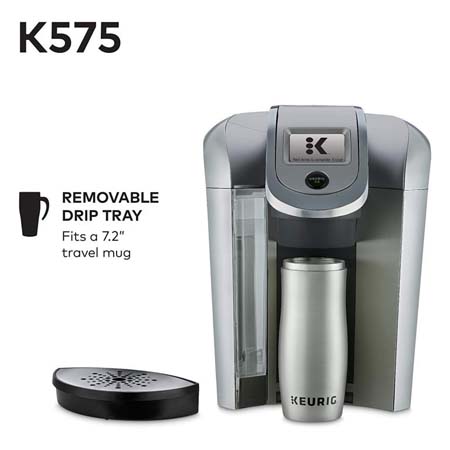 Coffee Taste
This part of my Keurig K575 review is probably the most important. No matter how cool your machine looks or how many innovative features it has, its place is in the trash if it brews bad-tasting beverages.
Now, that's not the Keurig's story. The K575 brews a great cup of coffee. Of course, it will not taste like coffeehouse espressos, but this isn't an espresso machine after all. The K575 makes rich, hot beverages that taste smooth and have a strong flavor.
Again, some users report a slight plastic taste, but this issue does not happen very often and seems to be a manufacturing defect.
The Keurig K575 is definitely the best option for people who want their coffee fast. The machine heats up and brews a cup of fresh coffee in a few minutes. To brew a full carafe, you will need to wait for around 3-4 minutes, which is also quite fast.
Another thing I want to mention is the "strong" brew option. Don't expect it to drastically change the way your beverages tastes. It will make your coffee richer and fuller, but the difference will not be that huge. Just something for you to keep in mind.
Cleaning and Maintenance
If you are anything like me, you
probably hate cleaning. I mean, it's nice to enjoy a hot cup of coffee, but the thought of the future cleaning labor can ruin the enjoyment.

Thankfully, with the K575, there's not much to worry about. The cleaning and maintenance of this machine are extremely easy. For a regular clean, you just need to wipe the exterior using a soft damp cloth. For stubborn coffee spots, try damping the cloth in soapy water. The water tank and the drip tray are removable, meaning you can easily rinse them from time to time. Keep in mind that those parts are not dishwasher-safe.
Now, you will also need to clean the needle that delivers the hot water to the coffee pods. Good news: the machine comes with a special tool to do that. It fits nicely into the pod holder, and all you have to do is lower the handle several times to clean the inside of the needle. Then run a hot water cycle, and you're all done.
And of course, don't forget about descaling. This process is a necessity. It will ensure the pure taste of your coffee and the durability of the machine. Want to know the cool part? The Keurig will inform you when it's time to descale it!
The K575 comes with six K-Cup coffee pods. This entry set is a great way for users to taste different samples and figure out which flavors they like the most and want to keep buying for their future beverages.
Now, descaling is fairly easy but requires time. What you need to do is fill the water tank with a special descaling solution (or a mixture of water and white vinegar if you are trying to save a buck or two). Then, run a cycle without inserting the coffee pod. To rinse the system, run a couple of extra water cycles after filling the reservoir with clean water. It isn't that complicated, right? The whole process may take around 30 minutes, so be ready to dedicate that time to clean your coffee maker once in a while.
The Good and The Bad Side by Side
Here's the deal:
Even though the Keurig K575 is packed with cool features, it isn't perfect. And it isn't suited for everyone either. So, to make sure it would (or would not) be suitable for
you
, I suggest you consider both the good and the bad concerning this model.
Let's start with the
pros
since there are more of them:
multiple brewing size options;

fast operation;

large water reservoir (removable for easy cleaning);

programmable brewing (carafe);

removable drip tray to accommodate taller mugs;

extremely easy to use;

sleek exterior;

large display;

five different temperature settings;

strong brew option;

easy cleaning;

works with water filters (and comes with two of them);

good value for money;

great coffee taste and flavor;

supports reusable pods and ground coffee of your choice;

energy saving mode.
This model comes with some extra accessories. The purchase includes two water filters and one filter handle. Additionally, there's also a needle cleaning kit that will help you keep the water-supply needle.
Now, the bad. Here are the
weak sides
of this coffee maker:
quite tall and will require a lot of counter space;

mostly plastic parts, which may disappoint some users;

the strong brew function doesn't make too much of a difference, in my opinion;

users occasionally report a slight plastic flavor of the beverages (which may be just a manufacturing defect);

works with Keurig-branded capsules only.
Probably the coolest thing about the Keurig K575 is that it can brew coffee for you when you are still in bed. Just program it the night before and wake up to the smell of fresh, delicious coffee.
Whom Is This Coffee Maker Ideal For?
I know that one machine cannot be perfect for everyone. After all, different coffee lovers and enthusiasts have different taste and requirements.
So, whom would the Keurig K575 satisfy? Or even make happy? This coffee maker is
the best for people who
:
appreciate good quality coffee;

want their beverages fast and fresh;

need multiple brewing options;

want to be in control of their beverages;

appreciate automation and programmability;

want something that's super easy to use;

don't mild buying Keurig K-Cup pods regularly;

have a big family of coffee lovers, or…

drink multiple cups of coffee every day;

have a spacious kitchen (or just enough counter space);

don't mind the plastic parts of the machine.
What do you think about the Keurig K575? Is it the coffee maker of your dreams, or will you keep looking for a different model? Let us know in the comments down below!
My name is Yurii Brown. I am a passionate coffee geek and, concurrently, a certified coffee specialist. 
I've been learning about coffee for a long time, testing various devices and practicing in home coffee brewing. I like to share my experience and insights with fellow coffee lovers so that my readers could enjoy the real taste of quality-brewed beverages.